Recreational water users and pool and spa owners warned of disease risk
As the weather warms up, recreational water users and pool and spa owners are reminded to make sure the water is properly treated and maintained to protect swimmers from the deadly amoebic meningitis.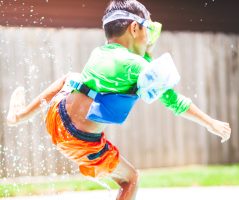 Amoebic meningitis is a rare but fatal infection caused by Naegleria fowleri and can be contracted when either fresh or poorly treated water contaminated with amoeba enters the nose.
The infection can affect people at any age. Children and young adults are usually more susceptible to the infection due to their recreational water use and activities.
Amoeba typically grows in warm water temperatures between 28 degrees and 40 degrees Celsius. Therefore any warm, fresh water could potentially contain Naegleria fowleri amoeba.
The Naegleria fowleri amoeba is naturally occurring in the environment and cannot be eradicated.
Reduce the risk of amoebic meningitis
The risk of amoebic meningitis can be reduced by:
never allowing water to go up your nose or a child's nose and do not sniff water into your nose when bathing, showering or washing your face
running all water from any hose or sprinkler for a few minutes until cool water flows through the hose before letting any child play with water from a hose or sprinkler
always supervising children playing with hoses or sprinklers and teach them not to squirt water up their noses
if the water in a hose or sprinkler remains warm even after flushing for a few minutes, do not let children play with it
staying out of dirty pools, spas, waterholes and dams
not using tap water for

 

nasal irrigation

 

unless it has been further treated.
Pool and spa maintenance
ensure pools and spas are kept clean, free of dirt and leaves, and are properly chlorinated
test water in swimming pools and spas at least twice a day – closely monitor and check that chlorine levels are within a safe range
make sure pools that do not use a stabiliser contain at least 2 milligrams per litre of chlorine (4 milligrams per litre where a stabiliser is used)
ensure pH levels are kept between 7.2 and 7.6
owners using pool covers should check their water more frequently as the covers may cause water temperatures to rise more quickly
keep wading pools clean by emptying, scrubbing and allowing them to dry in the sun after each use.
Learn more about 
amoebic meningitis
.
0 comments